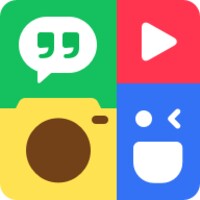 Photo Grid - Collage Maker
Combine multiple images from your phone in order to construct custom collages of your choice
Version: 7.41
Program available in: English
Program license: Free
Program by: Cheetah Mobile (Photo Editor)
OS:
Turn your photos into a beautiful collage with Photo Grid. This video and photo editing software allows anyone to create professional looking video slideshows and photo collages without the need for costly and complicated editing suites.
You can create videos with up to four grids or mix and match videos and photos for collages up to nine grids in size. The video grid functions boasts over 300 layouts, over 80 backgrounds and 10 different borders, allowing you to create a collage that's uniquely your own without having to painstakingly design and format your own collage from scratch. This editing tool also allows you to create video slideshows with as many as 50 different photos.
The photo collage functions are equally as impressive. Over 300 collage templates are available out of the box, and the software comes with a number of flourishes you can use to customize your pictures. These include filters, stickers, and advanced camera effects. You can also draw from over 90 different backgrounds to spruce up your photos.
If you'd like a little more control over your pictures, Photo Grid Collage Maker comes with some simple but useful photo editing tools. Cropping your photos, adjusting the ratio, and adding text are simple affairs with the Photo Grid interface.

Programs similar to Photo Grid - Collage Maker